WE WORK FOR THE BETTERMENT OF PEOPLE
Village Panchayat Santacruz
Village Panchayat Santacruz
Santa Cruz (meaning holy cross in Portuguese) is the largest village in Goa with a population of 21,000 people different religions and also who trace their origins to different parts of India.
Location
Geographically, it is situated in the North Goa district in the Sub-District of Ilhas de Goa (which means Islands of Goa, in the Portuguese language) or Tiswadi (thirty villages in Konkani) taluka or sub-district.
Santa Cruz is bounded north with Rio de Ourem (river of gold estuary, in Portuguese). Its neighbouring villages are Merces ("à mercê de" translates to "at the mercy of") village which stretches from the north-east to the east (on the east side of the NH 17), Bambolim which stretches from east to the south and Taleigao which stretches from the south to the west. Panjim, the capital city of the state of Goa located on the largest of the islands, is to its northwest.
Garbage Management Project
"Garbage collection in these areas will follow a door-to-door model. The panchayats have set up Dry Waste collection Centers. In villages though, there was a time when people would turn their waste into natural fertilizer for their gardens. But now, the plastic menace has crept into villages too, so it will take a few years for the move to become a reality".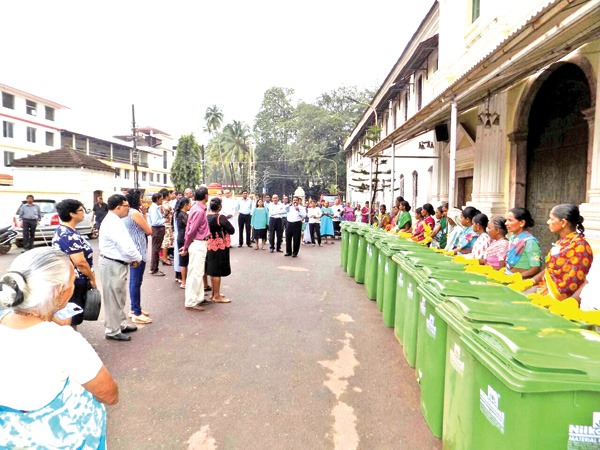 As a Sarpanch of the Santacruz village panchayat, I take the honor to release of newly developed official website for the betterment of the people. With our website, citizens of the Santacruz village panchayat can easily download the forms and require information on just a single click. It is a very convenient and time-saving way, where people save the time of travel to the panchayat just to collect the form. You can also get entire details about the schemes and the services we offer on our official website.
After the launch of our website, I assure you that our website will be live 24*7 throughout the year with the regular updates. I appeal to all audiences to visit our official website and appreciate the work of the staff in maintaining the website up-to-date with the latest functions and the happenings.
Connect with us for any kind of enquiries, Suggestions and Complaints.